SPAM GIFS!
« previous entry | next entry »
Dec. 22nd, 2009 | 11:22 pm
mood: hyper
music: Again and Again - 2PM

Spamming super funny 2PM gifs here! Merci to the wonderful LJ cut function! If blogger had it I'll post it there instead LOL.
Wahahhaha Chansung and Nickhun being dorky in the toilet. They were cleaning the camera (I think) and making funny faces at the same time!
Taecyeon and Junsu's mission! Love the cartwheel at the end! Super syncro!!
Jaebeom and Junho (??) doing Gee dance!!
Crazy Taecyeon and Wooyoung! Hahah doing dorky stuffs while mc-ing on inkigayo!
Jaebeom bullying Taecyeon! It was this 100 actions mission on Taecyeon! Jae was using hitting Chansung (on the left) as an excuse, but in fact he was hitting Taec LOL!
Taecyeon and Chansun carrying Wooyoung away from the stage cause (I think) he was doing some ssanti (cheap/dirty) dance LOL!
Taecyeon rips for Heartbeat! *gasp*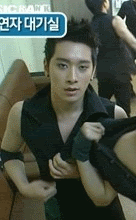 *GASP* Chansung tried to follow his hyung too!
Chansung dancing in his own world~ Cute maknae! (maknae=youngest)
Super strong Chansung just pushed Wooyoung out of his chair LOL!
Some crazy butt shaking by Junho in 10 out of 10 performance!
Ending of with 2PM love from Junsu and Wooyoung!
That's all~ Credits to those who uploaded these on photobucket ^^
Comments {1}